Identity expression is an important activity with a rich history for the 2SLGBTQIA+ community that is done for a variety of reasons. 2SLGBTQIA+ individuals often spend years cultivating a sense of self within their own identities. This often comes with leveraging factors such as safety, timing, and accuracy when learning to express oneself. With the prevalence of wearable technologies like the Apple Watch and their Pride Editions (that features a watch face and band branding the Progressive Pride Flag colours), there is a need to examine how wearable technology lends itself to queer identity expression and management.   
This study aims to understand how wearable technology (e.g., Smart Watches) can be used by the 2SLGBTQIA+ community as a medium for expressing their sexual and gender identities and what design considerations must be taken. Topics will range from identity expression, experiences with wearable technology, and how wearables could support expression.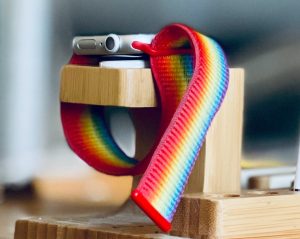 To participate in this study, you must be:
2SLGBTQIA+ or any other identities that fall outside of cisgender/heterosexual
At least 18 years of age
Comfortable with the English language.
While appreciated, no particular amount of experience with wearable technology is required!
Interviews will take place via participants' choice of online platform (e.g. Zoom, Google Meet) or by Phone which will be recorded and transcribed with your consent. Audio recordings are mandatory for the study to aid with note-taking. Participants will also be compensated for their time with a $CAD 20 e-gift card of your choosing, with the default option being from Amazon.
If interested please email Adrian Bolesnikov at adrian.bolesnikov@carleton.ca for more details!
Faculty Supervisor: Audrey Girouard
The ethics protocol for this project has been reviewed and cleared by the Carleton University Research Ethics Board, CUREB-B Clearance # 116259. If you have any ethical concerns with the study, please contact the Carleton University Research Ethics Board-B via email at ethics@carleton.ca.